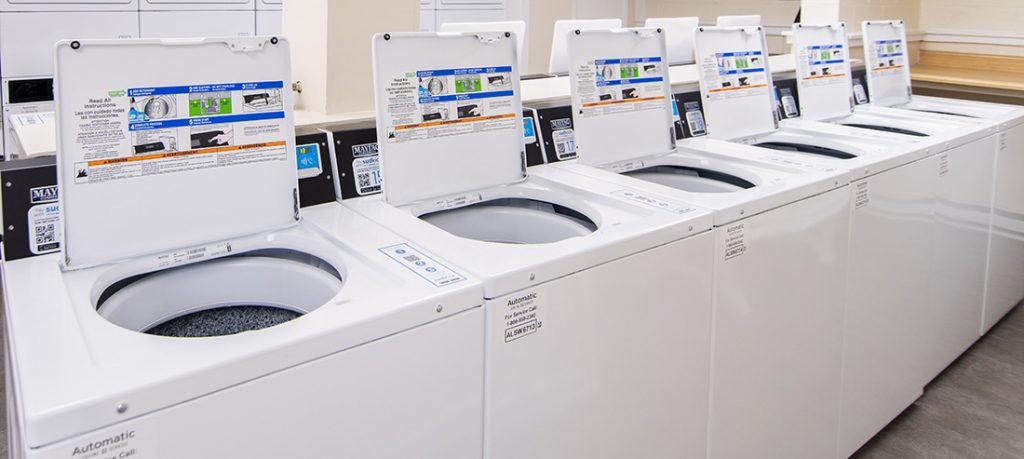 We care about the health of our community and want to help make navigating this time easier for you. With cleanliness and hygiene taking center stage due to the outbreak of COVID-19, we wanted to share the following laundry safety tips which while critical now, are always relevant and useful.
Clean and disinfect carts, baskets, and hampers.
It is important to keep whatever you carry your laundry in clean. Pay close attention to high-touch areas such as handles and outside walls. Wipe these items down with a disinfecting wipe or cloth dampened with disinfectant spray. If possible, use a bag liner that is either disposable and can be thrown away after each use, or a reusable one that can be laundered.
Wipe down machine buttons, knobs, and door handles before and after each use.
As with your laundry carts and baskets, take the time to clean your laundry equipment before and after each use. This is especially important for anyone using a shared or public laundry space. Use a disinfecting wipe or pre-sprayed paper towel to clean all surfaces, particularly buttons, knobs, and door handles. Do not spray cleaner directly onto machine surfaces.
Do not shake dirty laundry.
Be careful when handling dirty laundry, especially if it belongs to someone who is ill. This will minimize the possibility of dispersing the virus and other germs through the air. You can wash laundry from someone who is ill with other people's items.
Use the warmest water setting for your items.
Follow garment and manufacturer's instructions when washing clothing and children's plush toys. Use the highest appropriate water temperature and dry items completely. Experts recommend a temperature of at least 140° when possible.
Use the right amount of soap.
Although soap is essential to getting your laundry clean, excess suds can actually trap dirt and grime inside fabric. Be careful not to use too much soap or overload your machine, both of which can cause your items not to rinse properly.
Machine-dry your clothes.
Viruses do not like heat. So, if garment instructions allow, machine-dry your clothes rather than lying flat or hanging to dry.
Wash your hands.
Although it may feel overstated, it can't be emphasized enough. Make sure you wash your hands with soap and water after handling laundry. The CDC also recommends wearing gloves when handling dirty laundry from someone who is ill and washing your hands immediately after gloves are removed.
To keep this info handy, download our printable laundry safety tips.