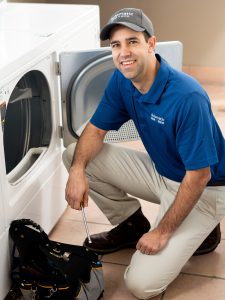 What separates Automatic Leasing from other providers? Superior customer service! Automatic Leasing is family-owned and operated, specializing in leasing washers and dryers since 1956. We have a proven track record in satisfying customer needs and maintaining the laundry equipment you lease or purchase from us. We strive to respond to every service call within 24-48 hours. We have a service technician on call for after hours emergencies. Contact us for a custom service quote!
Monthly Service Plans for Laundry Rooms
We would be happy to prepare a monthly service agreement to keep your machines running in top shape.
For contracts that offer scheduled preventative maintenance (PM) plans, we are diligent in performing PM on leased or purchased laundry machines.
Preventative Maintenance (PM) includes the following:
Dryer chutes, blower housing, and heating elements are vacuumed
from the dryer to the outside of the building
All hoses and fittings are inspected for leakage
Motors and transmissions are checked
All machines are test run to ensure proper operation
A detailed report will be submitted to the management company after the PM has been completed.
All service techs will report to the office and communicate what repairs have been completed.
We also offer repair services for domestic or commercial machines for the occasional issue at exceptional rates! Our goal is to provide worry-free service to each and every customer–we go the extra mile for you.