If leasing is not an option for you and you are interested in owning your machines, Automatic carefully selects commercial laundry machines, including but not limited to major brands such as Whirlpool, Maytag and Speed Queen new or reconditioned machines. Property owners will enjoy the energy cost savings and ancillary income generation the newer machines can provide.
For example, our Speed Queen Energy Star® front loading washers use just 11.7 gallons of water per cycle and have a modified energy factor "MEF" of 2.98. Additionally, they have a water factor "WF" of 3.8 which can equate to savings of hundreds to thousands of dollars in utility costs over a five year period. Our maintenance program will keep your machines running efficiently with less need for repairs and extend the life of the equipment.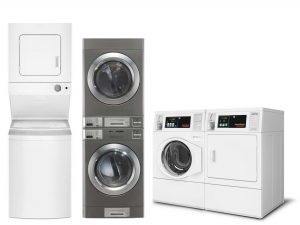 Our Laundry Equipment
Front Load Washers
Revolutionary balancing technology redistributes even the most unbalanced loads for consistent cycle times, minimized vibration and reduced noise. Increase spin speed extracts 440 G-Force to maximize moisture removal, helping to minimize dry times. 20% increase in capacity with improved water usage for superior washability, increased customer satisfaction and lower utility bills. Heavy-duty design features like a rugged suspension system and stainless steel washtub and outer drain tub to deliver long-lasting performance. Redesigned four-compartment soap dispenser for simplified use and cleaning.
Single Load Dryers
Speed Queen's front control dryer, defined by its simplicity and its performance, provides everything you need to get the job done – and nothing you don't. Speed Queen's single load dryers combine heavy-duty construction with reliable operation proven to stand the test of time. They're designed with less moving parts for one reason: so you'll face fewer maintenance problems and less wear and tear down the road. The perfect balance of heat, airflow and tumble action for optimal performance and efficiency. Extra-large capacity with the largest door opening in the industry for easy loading and unloading. Durable galvanized steel cylinder.
Stack Dryers

The Speed Queen stack dryer offers the same great features as the single load dryer. Two commercial dryers in the space of one, both operating independently, including independent controls for optimum usage. Available with see-through or solid door models. ADA Compliant (bottom dryer only).
Stack Washer/Dryer

Speed Queen's stack washer/dryer brings an innovative stacked concept that takes up half the floor space that a conventional washer and dryer does when situated side by side. The freestanding soft mount design can be installed on all floor types or levels. Both washer and dryer have the same hookups and connections as a standard washer and dryer. No additional plumbing or electrical change is needed. Same great features as the front control washer and dryer for superior washing and drying convenience. ADA Compliant (washer only).
Laundry Equipment Parts
We carry replacement parts for many of the washers and dryers we support and service.