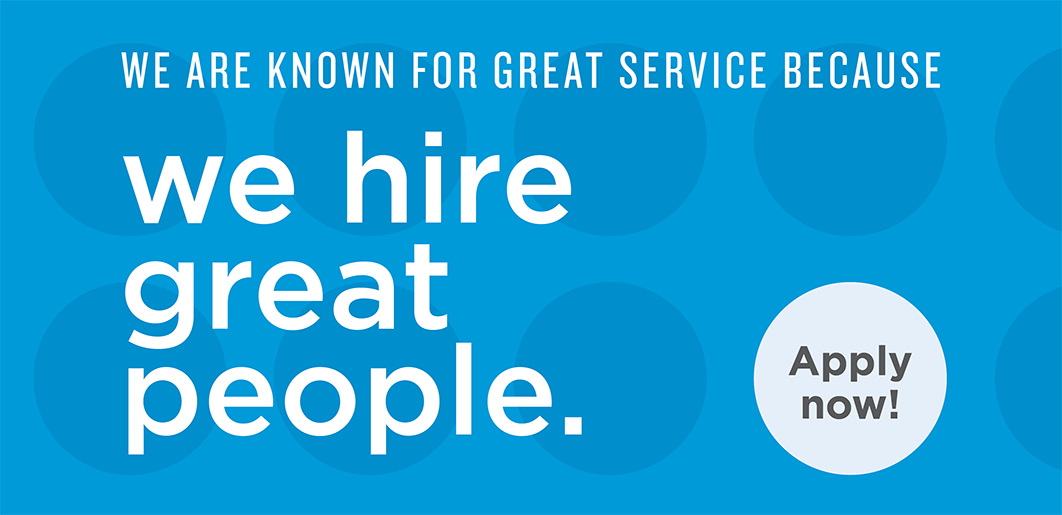 We are a people-focused company.
Our customers love our exceptional service, which is only made possible by our close-knit staff and operational efficiency. We are known for being attentive and responsive to customer needs, but what makes Automatic Leasing Service a truly great place to work is that we are responsive to each other. We are friendly, helpful, professional, and flexible to each other as much as we are to our customers. We pitch in and support one another. We also offer competitive benefits packages and opportunities to grow.
If we sound like a team you would like to join, please apply for the position that best suits your talents and experience. Simply download the application, and email the completed form to hr@automaticleasing.com. Be sure to include the job posting title and location in the subject of your email (for example "Route Driver–Installer Newport News VA).
Current Openings
Service Technician                                                                                            Location: Richmond, VA  (1 opening)                 
We have an immediate opening for a Service Technician. The ideal candidate has relevant experience in repairing appliances or a strong technical background, works well with others, and multi-tasks with ease. This position requires lifting/moving products up to 185 pounds with proper equipment. Additional Requirements for Consideration: DMV report, background check, high school diploma, or equivalent.
Download Application  View Position Details
Service Technician                                                                                            Location: Newport News, VA  (1 opening)                 
We have an immediate opening for a Service Technician. The ideal candidate has relevant experience in repairing appliances or a strong technical background, works well with others, and multi-tasks with ease. This position requires lifting/moving products up to 185 pounds with proper equipment. Additional Requirements for Consideration: DMV report, background check, high school diploma, or equivalent.
Download Application  View Position Details
Route Driver – Installer                                                                                            Location: Newport News, VA  (2 openings)

We have immediate openings for 2 Driver/Installers. The ideal candidate is organized and dependable, works well with others, and multi-tasks with ease. This position requires lifting/moving products up to 185 pounds with proper equipment. Additional Requirements for Consideration: DMV report, background check, high school diploma or equivalent.
Download Application  View Position Details
Route Driver – Installer                                                                               Location: Richmond, VA  (1 opening)                 
We have an immediate opening for a Driver/Installer. The ideal candidate is organized and dependable, works well with others, and multi-tasks with ease. This position requires lifting/moving products up to 185 pounds with proper equipment. Additional Requirements for Consideration: DMV report, background check, high school diploma or equivalent.
Download Application  View Position Details