Laundry management can be messy. Maintaining a clean, well-equipped laundry room and offering state-of-the-art payment options are keys to attracting and retaining residents. With property managers wearing so many hats, this can feel like a daunting task. However, partnering with the right laundry service provider can make all the difference in achieving a beautiful, well-maintained space that residents love. We recently had the pleasure of working with Talbot Park Apartments in Norfolk, Virginia to do just that.
Conveniently located within 5 miles of Old Dominion University and Naval Station Norfolk, Talbot Park is highly attractive to renters with its 296 apartment units and large community laundry room. However, their outdated, coin operated laundry equipment seemed to constantly need repair. They also lacked the technology to accept mobile payments, an amenity that more and more renters have come to expect. Having partnered with Automatic at their other properties, Adam Saich, President of Talbot Park's holding company, knew he could rely on us to transform the space and maximize its potential for attracting and retaining residents:
"We always expect exceptional customer service from Automatic Leasing because they always provide it! We have been doing business with Automatic for 6 years, and it has been a pleasure working with a vendor that consistently exhibits professionalism, commitment, and excellence."
By switching to Automatic for their laundry service needs, their laundry room now offers more convenience and state-of-the-art technology with an updated look that is both attractive and functional. In addition to brightening up the space with fresh paint and new signage, our team helped identify ways to add more value to the room by upgrading it with premium equipment and a mobile payment system.
The room now features new Speed Queen Quantum washers and dryers, giving residents more cycle options with intuitive and easy-to-use controls. Residents also now enjoy the convenience of a new, cashless system which offers two easy options, including our exclusive mobile payment app, SudKick. According to Saich, "(SudKick) has been immensely successful for us. It has eliminated the need for residents to tote around coins; they just need their mobile device!"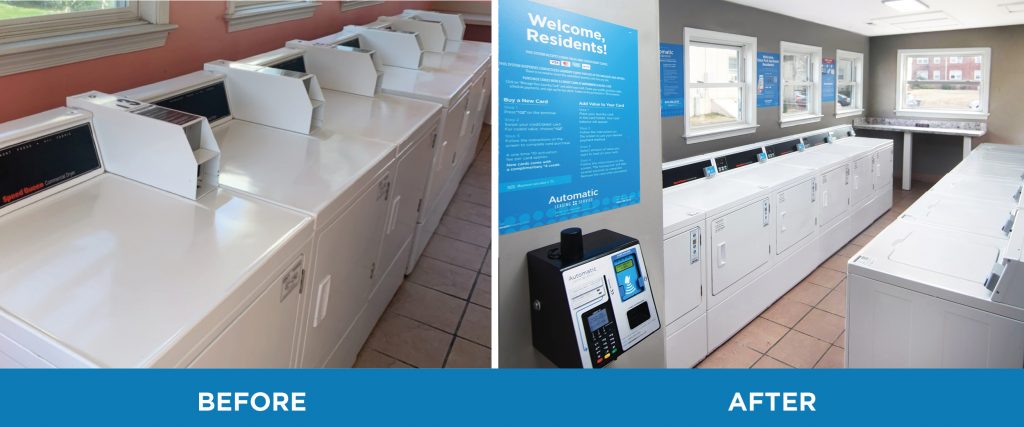 In addition to providing a simple, secure payment option, SudKick streamlines service requests by allowing users to easily and directly contact the Automatic team through the app. Saving property managers time and ultimately increasing profitability. Plus, residents love remotely checking machine availability before heading to the laundry room and setting up clean alerts for when their laundry is complete.
Laundry management doesn't have to be messy. At Automatic Leasing Service, we take pride in making it easier with perfect, customized solutions that make residents happier. If you are looking to maximize the potential of your multi-family laundry room, our team would be happy to help you find your perfect laundry solution.