Our mobile app, SudKick™, provides users with the convenience of an easy-to-use payment option that eliminates the need to carry cash, coins, or cards. Users can set up an account within minutes and receive their first wash and dry for free! Below are some helpful tips and tricks to ensure a seamless and smooth laundry day with our free and convenient mobile app.

1. No WiFi Needed
You never have to worry about finding WiFi since SudKick™ operates directly from the cellular service on your phone. It is best to open the app in a location where your cellular signal is strong. If you are having trouble connecting to the app while in the laundry room, it may be due to poor cellular service. Try opening the app before heading to the laundry room to eliminate any worries about cellular service once you arrive.
2. Enable Bluetooth for Easy Connection
SudKick™ uses Bluetooth to automatically detect your laundry room and make it easy to connect to the machines. Simply enable Bluetooth under the general settings on your phone, as well as in the app itself. Users are prompted to accept Bluetooth the first time they use the app. If you accidentally selected "don't allow" the first time you logged in, you can easily adjust the app settings on your phone. If you are still unable to connect, try uninstalling and reinstalling the app to receive the Bluetooth prompt again.
Pro tip: Allow app notifications to receive updates on your laundry cycle, requests, refunds, etc.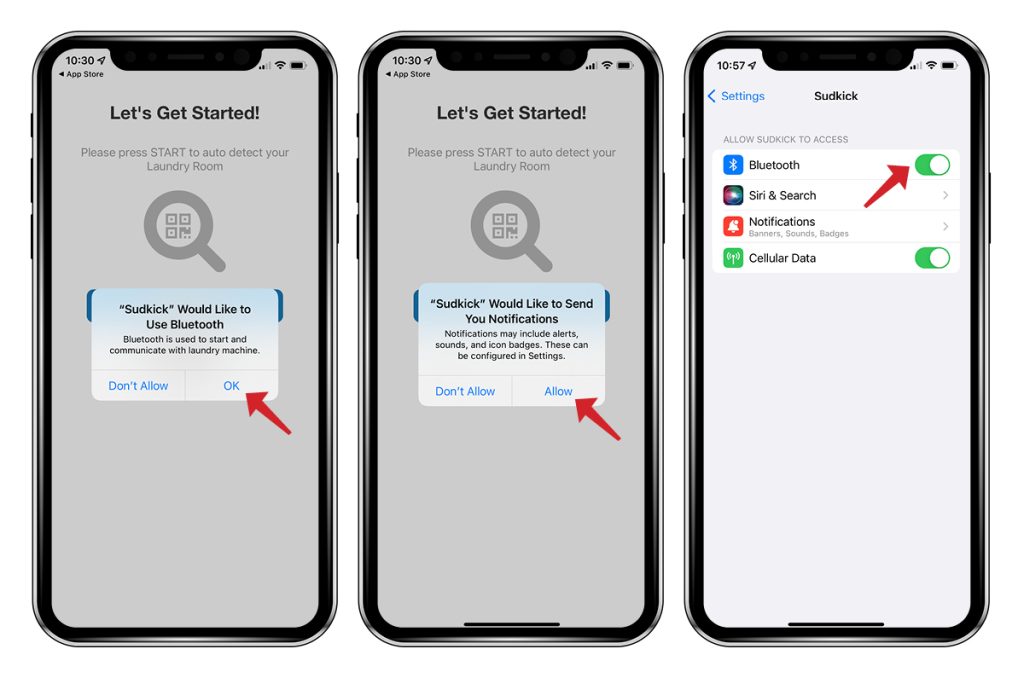 3. Location, Location, Location
With Bluetooth enabled, SudKick™ will automatically detect your laundry room using your phone's location. Before you log in to the app, confirm the name of your property is displayed under "location" on the login screen.
If you need to update the location, simply click the "re-scan registration QR code" on the screen. You can then find your laundry room by scanning the QR code or by entering the Smartphone Registration Code (SRC), which can be found on your laundry room sign.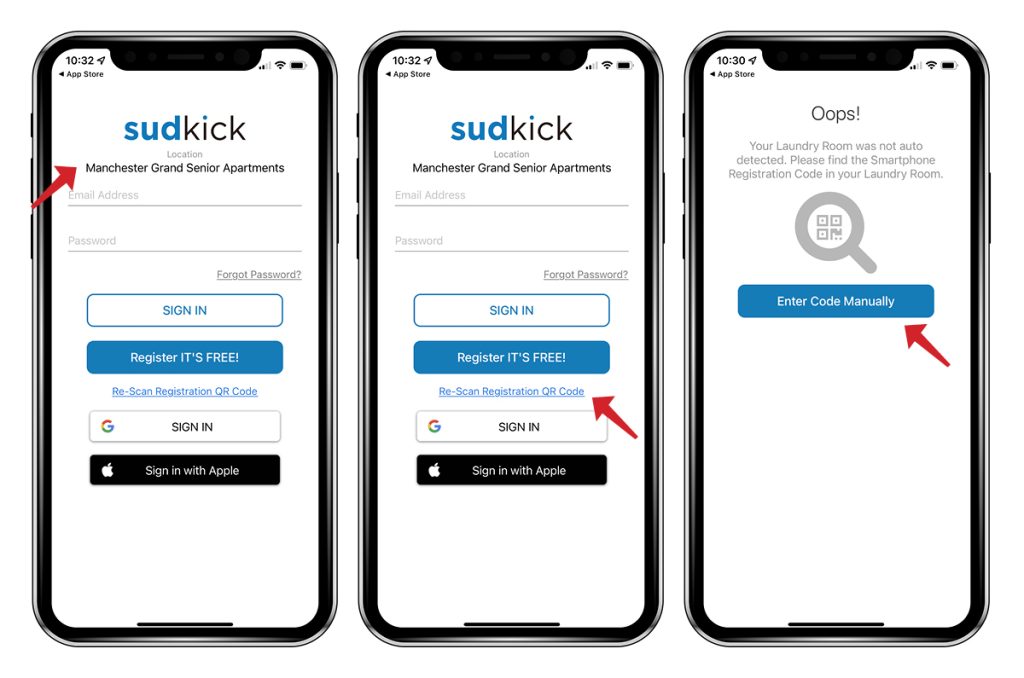 4. Keeping Track of Funds
Some properties offer multiple payment options for the convenience of their residents. If your laundry room offers laundry cards in addition to SudKick™, keep in mind that these payment systems are separate. While you are welcome to use both, your laundry card and SudKick™ app will have their own, separate balances. You can check the balance of your laundry card at the kiosk in the laundry room and manage your SudKick™ account from your phone. Funds cannot be transferred from one system to the other.
5. Trouble starting the machine? Try these tips!
Technology can choose to be difficult during the most inopportune times. Here are a few tips that users have found successful when troubleshooting.
After loading the machine, enter the machine number or scan the QR code before selecting your cycle and pressing start. Be sure to wait 5-10 seconds after pressing start to ensure connectivity!
If the machine does not start after 10 seconds, try powering off your phone and restarting the SudKick™ app. Some users have also reported that uninstalling and reinstalling SudKick™ helps resolve connectivity issues.
If you are having trouble using a particular machine in your laundry room, please try using another machine to see if your app will connect. Once you have identified that the problem was with the machine and not your app, you can submit a refund and repair request for the machine that was not working. Our service team will be happy to address the problem within 2-days so that it is resolved before your next laundry day!
SudKick™ was designed to provide a convenient and easy laundry experience for all. We strive to continuously improve our system and encourage users to give us feedback. Users are encouraged to submit comments via the "Give Feedback" option in the app.