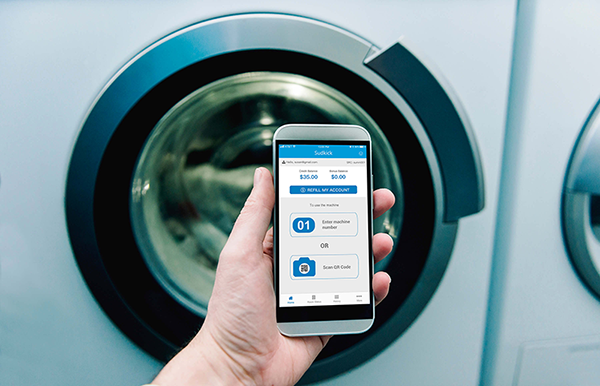 With so many payment solutions available today, there's a lot to consider when choosing a payment system for your multi-family laundry room. It's important to find a system that works for you as well as your customers. Security is always a priority when handling financial transactions, but there are additional factors to take into consideration such as your reporting needs, your customers' comfort with technology, and overall ease-of-use for all. Automatic offers several flexible payment systems that allow you to meet the needs of your customers and optimize your collections management operations. Let's take a closer look at some of the options, and the benefits of each:
Mobile Payment Apps
For those who enjoy convenience in the palm of their hand, we offer a free mobile app with secure, easy-to-use payment options. In addition to using the app to pay for laundry, users can view washer and dryer availability, check their account balance, and even receive a notification when their laundry is done. Property managers benefit from the security of mobile payment apps, which eliminate the need for laundry room attendants, change machine upkeep, and rolling quarters. Plus, property managers can remotely access revenue tracking tools and transaction reports.
Laundry Cards
Reloadable laundry cards provide a convenient and secure payment option. Users can purchase and add value to their card with a credit card, cash, or online transaction. Like mobile payment apps, laundry cards reduce liability and upkeep for property managers by eliminating the need for a laundry room attendant and change machine collections. Plus, card transactions are handled remotely providing access to revenue monitoring and detailed reporting.
Credit Cards
Credit card payment systems offer residents the convenience and familiarity of a universal payment type. Secure credit card systems reduce liability by eliminating on-site cash collection and storage. Similar to our other card systems, credit card transactions are processed and managed remotely, and provide real-time access to revenue tracking tools and detailed reporting.
Cash & Coin
Even with all the advances in technology, many people still prefer the comfort of a traditional cash and coin system. These systems are easy to use and energy efficient, however they are a little more hands-on for property managers as they do require on-site collection and storage.
Offering flexible, easy-to-use payment options is essential to attracting and retaining customers. With many laundry rooms serving a diverse customer base, sometimes the best solution is to incorporate more than one payment option. Contact us today to learn more about these payment options and how Automatic Leasing can help you find your perfect laundry solution.